---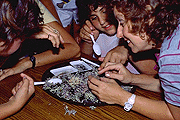 Algae Lab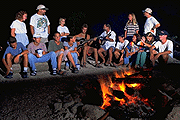 Campfire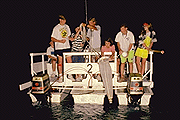 Planton Lab
---
© Copyright Seacamp Assoc. Inc. All Rights Reserved
---
OUR PROGRAMS - EVENING PROGRAMS
CORAL ECOLOGY - NEARSHORE ECOLOGY - COASTAL ECOLOGY
MARINE INVESTIGATIONS - EVENING PROGRAMS - VAN TRIPS
EVENING PROGRAMS-
LABS AND ACTIVITIES AT NHMI
Algae Lab
After a discussion of algae and their importance as habitats, students search for animals living within samples of calcareous algae. This is an excellent review or introduction to the invertebrate phyla. A favorite lab of many students and teachers.

Plankton Lab
Most of the animals observed by students at NHMI began their lives as microscopic plankton. This lab focuses on the ecology and identification of plankton, using live specimens and microscopes. If time and space permit, students may accompany the instructor on a plankton collection trip.

Campfire/Astronomy
Led by their instructors, students sing, perform and toast marsh-mallows while enjoying an evening under the stars. Stories may be told involving astronomy and/or the history of the Keys. Often combined with a night wade (below).

Night Wade
At night, the shorelines of NHMI are perfect for observing nocturnal habits of marine creatures. Students wade in ankle-deep water, using flashlights to illuminate their search for animals such as crabs, anemones, worms, mollusks with external shells..... and even octopi!