---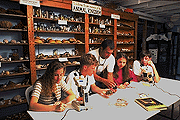 Lab Studies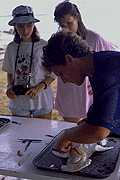 Shark Disection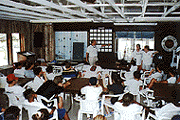 Jeopardy
---
© Copyright Seacamp Assoc. Inc. All Rights Reserved
---
OUR PROGRAMS - MARINE INVESTIGATIONS
CORAL ECOLOGY - NEARSHORE ECOLOGY - COASTAL ECOLOGY
EVENING PROGRAMS - VAN TRIPS
MARINE INVESTIGATIONS-
LABS/SNORKELING/WADING TRIPS AT NHMI- DAYTIME PROGRAM #3
Fouling Communities
Lesser-known invertebrates such as hydroids, tunicates and bryozoans thrive on submerged docks and pilings. Students closely examine these fouling organisms.

Shark Ecology
Hands-on activities, a question and answer session, and a chance to observe sharks make this a favorite program of students and teachers.

Cassiopeia Lab
Cassiopeia (Upside-down jellyfish) are collected and then exposed to changes in physical conditions that occur in their natural habitat. Students monitor changes in pulsation rate, record and analyze data and then release the jellyfish.

Sponge Community
Within the myriad canals of many sponges live hundreds of invertebrates. Students examine the canals and observe and record the creatures found within them. Annelid worms and snapping shrimp are some of the most common inhabitants.

Fish Anatomy
External and internal anatomy of bony fishes are discussed and examined. Activities may include fish printing (on tee shirts or paper), fish dissection (for older students) and comparisons between bony and cartilaginous fishes.

Animal Behavior
Students collect animals such as fiddler crabs, segmented worms and sea stars ("starfish") and design experiments to monitor various behaviors, including defense, feeding, reproduction and competition.

Squid Anatomy
External and internal anatomy of cephalopods will be discussed and examined. This dissection lab is one of the most popular marine investigations.