---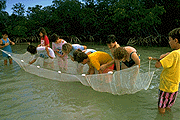 Seining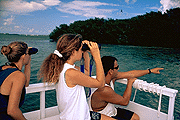 Bird Watching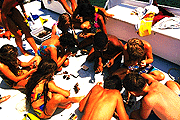 Sponge Lab
---
© Copyright Seacamp Assoc. Inc. All Rights Reserved
---
OUR PROGRAMS - NEARSHORE ECOLOGY
CORAL ECOLOGY - COASTAL ECOLOGY - MARINE INVESTIGATIONS
EVENING PROGRAMS - VAN TRIPS
NEARSHORE ECOLOGY-
OPTIONAL BOAT TRIP/WADING AT NHMI- DAYTIME PROGRAM #2
Sponge Community
Loggerhead, vase and stinker sponges are just a few of the many sponges found in the shallow waters around Big Pine Key. Students snorkel to observe sponges and their associated plants and animals. Stresses of living in shallow water are important concepts covered at all nearshore sites.

Mixed Algal Community
Dozens of species of algae live on hard bottoms and serve as the basis for a thriving community of invertebrate animals which includes crabs, spiny lobsters and seastars. Snorkelers can easily observe these organisms in this shallow water habitat.

Turtle Grass Community
Surrounded by the soft sediments which they accumulate, turtle grass beds are an important component of shallow areas in the Keys. Students snorkel over grass beds to observe the animals that live on and among the seagrass blades.

Watson's Hammock Trails
A short trip by boat brings students within an easy wade and walk into a tropical hardwood hammock. This walk takes students through fringing mangroves, scrub-thorn areas, and pine flatwoods communities, leading into a basin mangrove forest adorned with hundreds of bromeliads. Another trail leads into a rare hardwood hammock, where remnants of native American Indian middens are visible along the trail. This trip is also an option for a van trip, for groups that bring a van. The hammock is accessed via a trail through the National Key Deer Wildlife Refuge. Observe several threatened and endangered species (flora and fauna) indiginous to these islands.
Coralline Algae Community
Shoals and mounds of coralline algae are excellent snorkeling and wading sites. Hosts of invertebrates and fish utilize these areas for protection and food.

Mangrove Snorkel
At high tide, mangrove islands make fascinating snorkeling sites. Sponges, tunicates, algae and other sessile organisms cover the roots. Small fish are abundant under the trees. Gulf or Atlantic study sites are available.