---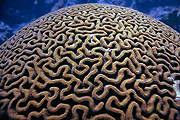 Brain Coral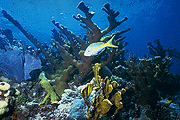 Looe Key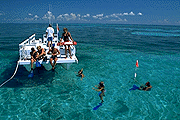 Our Classroom
---
© Copyright Seacamp Assoc. Inc. All Rights Reserved
---
OUR PROGRAMS - CORAL ECOLOGY
NEARSHORE ECOLOGY - COASTAL ECOLOGY
MARINE INVESTIGATIONS - EVENING PROGRAMS - VAN TRIPS
CORAL ECOLOGY -
SNORKELING TRIPS BY BOAT - DAYTIME PROGRAM #1
Inshore Patch Reefs
Located in 10 -12 feet of water about two miles from NHMI, the patch reefs (also referred to as "the coral heads") are located landward of the Florida Reef Tract. The circular patches of star and brain corals harbor a diversity of fish and invertebrates easily observed by snorkeling students.

Offshore Bank Reef
Looe Key National Marine Sanctuary, a bank reef seven miles south of NHMI, is part of the Florida Reef Tract. Looe Key exhibits classical reef zonation and development patterns (spur and groove), with depths ranging from the reef crest (2-4 feet) to 60 feet. Possible study sites include the fore reef and the back reef (lagoon). This program option is available to older students only (9th grade and above).

Soft Corals
Adjacent to the coral heads and in nearby shallow hard bottom areas are stands of sea whips and sea fans (gorgonians). Students enjoy the diverse invertebrate communities in these areas. Exploring this habitat may be combined with a trip to the patch reef, or the soft coral community could be an option for a second boat trip.

Non-Reef-Building Coral Communities
Non-reef-building corals, such as rose coral, finger coral and golf ball coral, grow in shallow water all around NHMI, affording snorkelers an excellent opportunity to view living corals "up close".

Gulf of Mexico Coral Communities
High school groups opting for an all-day boat trip may want to snorkel around coral communities in the backcountry of the Gulf of Mexico. The relative wilderness of the area and its unique environment make for an interesting contrast to the reefs of the Atlantic Ocean side of the Keys.