---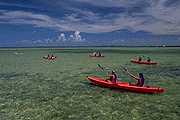 Kayaking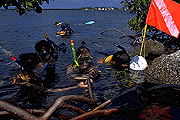 Mangrove Roots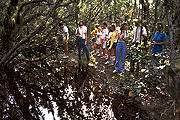 Watson's Hammock
---
© Copyright Seacamp Assoc. Inc. All Rights Reserved
---
OUR PROGRAMS - COASTAL ECOLOGY
CORAL ECOLOGY - NEARSHORE ECOLOGY - MARINE INVESTIGATIONS
EVENING PROGRAMS - VAN TRIPS
COASTAL ECOLOGY-
SNORKELING OR WADING AT NHMI- DAYTIME PROGRAM #4
Mangrove Ecology
A trip to Horseshoe Island or other mangrove shores offers students the chance to wade and/or snorkel around mangrove trees. The associated plants and animals are observed and discussed. Examples of both scrub and fringing mangrove forests are within a short wade from NHMI shores.

Kayak Trip
The neighboring offshore islands and shallow waters around NHMI, resplendent with marine life, are a wonderful option for a kayak trip. Mangroves, sea grasses, algae, sponges, spiny lobster nursery areas, and seabird rookeries can be studied within a short "paddle" from NHMI shores. This is an excellent way to see some of the pristine areas of the Coupon Bight Aquatic Preserve.

Seagrass Studies
Turtle grass beds abound in the shallow water of Coupon Bight Aquatic Preserve adjacent to NHMI. In a program designed for older students, the NHMI Instructor leads students through a transect of a seagrass bed. Students collect and later analyze data on biomass and seagrass bed profiles.