---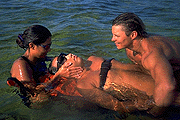 Lifeguard Training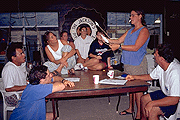 Class Work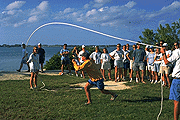 Group Dynamics
---
Newfound Harbor Marine Institute 1300 Big Pine Key, Fl 33043
© Copyright Seacamp Assoc. Inc. 1997 All Rights Reserved






---
OUR STAFF
INTERN JOB DESCRIPTION
INSTRUCTOR JOB DESCRIPTION
OTHER JOBS AVAILABLE
OUR STAFF
The program staff at Newfound Harbor Marine Institute bring a touch of their hometowns when they come to our corner of Paradise. Interns and instructors hail from every region of the US, from New England to the Midwest and from the Pacific Northwest to Hawaii.
Our interns and instructors possess a wide variety of college degrees. While many earned degrees in the marine sciences, others entered our program with degrees in Psychology, English, Business, Chemistry, Education and Fine Arts. All are driven by an inspiring interest in marine biology. Our program staff are not limited to college graduates, as many interns accept the challenge of a semester at NHMI for their pre-professional training. Through their training at NHMI, their teaching experiences and the requirements outlined by the university, they obtain academic credit for a semester internship.
The staff's diversity is further enhanced by the combination of life and work experiences that they bring to NHMI. Our program staff have previous experience working with children as summer camp counselors, environmental educators, tutors, swim instructors, and classroom teachers. They have conducted marine mammal research, botanical research, avian research, worked at tropical field stations, and participated in semester at sea programs. Others still guided programs at several museums, nature centers and aquaria across the US.
The NHMI internship is based on six to eight weeks of focused training. Staff learn boat handling skills and US Coast Guard boating rules to captain our 26 ft. oceanic research vessels. They also obtain American Red Cross certifications in Lifeguarding, CPR and Advanced First Aid. Our leadership staff conduct seminars and hands-on training workshops in mangrove ecology, reef fish ecology, coastal ecology, shark biology, coral reef ecology and field techniques. Interns are required to participate in teaching techniques seminars, program observations, and team teaching sessions.