---
Every February, NHMI hosts its annual Marine Education Workshop. All Educators with an interest in the marine environment are invited to attend.
Please contact the Marketing Dept. for more Information.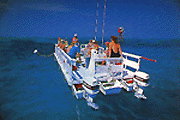 Join Us on the reef!
---
© Copyright Seacamp Assoc. Inc. 2009 All Rights Reserved






---
OTHER PROGRAMS
INTERNATIONAL PROGRAM - TEACHERS WORKSHOP
MARINE EDUCATION WORKSHOP
Newfound Harbor Marine Institute (NHMI) is located on Big Pine Key, in the Lower Florida
Keys, 120 miles southwest of Miami via US 1. Our facility is accessible by air with airports
located in Key West. This Marine Education Workshop will offer the opportunity to study a
variety of subjects. Unique sub-tropical program sites within the Florida Keys National Marine
Sanctuary include: Soft and Hard corals, Mangrove Islands, Sponge and Sea grass Beds,
Goniolithon Shoals and Labs, and the Looe Key National Marine Sanctuary. All educators,
naturalists and others (over 21 years of age) with an interest in the marine environment are
invited.

Click here for the PDF registration form to print out and send in.