---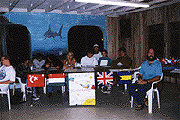 Environmental Discussions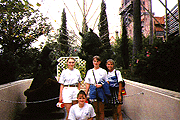 Taking in Local Sites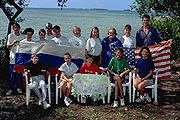 International Weekend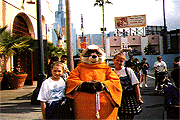 A Visit to Orlando
---
Newfound Harbor Marine Institute 1300 Big Pine Key, Fl 33043
Ph: 305-872-2331
© Copyright Seacamp Assoc. Inc. 1997 All Rights Reserved
---
OTHER PROGRAMS
INTERNATIONAL PROGRAM - TEACHERS WORKSHOP
INTERNATIONAL PROGRAM
Seacamp Association, Inc. is an international institution, hosting students from many countries of the world. Since 1986, youth and adult students from 43 countries have participated in Seacamp or NHMI programs at our site, coming from Belgium, Canada, Columbia, Ecuador, France, Germany, Great Britain, Greece, Guadeloupe, Italy, India, Indonesia, Japan, Mexico, Nigeria, New Zealand, the Philippines, Puerto Rico, Russia, Saudi Arabia, Spain, Thailand, Turkey, Venezuela and many other countries.

For its international student groups NHMI offers programs from 5 to 20 days. If a group is interested in a longer program, we will, upon request, connect it with one of the American groups that is doing a program at NHMI during the same time. It is a great experience for international campers to make friends with their American peers through joint participation in marine studies.

Program Design
From the 30 or more program options described on the NHMI Program page, group coordinators may tailor their schedule to the needs and interests of the group - or, they may request additional programs. For example, at the request of the Moscow Environmental College, NHMI prepared a 15-day program on Tropical Ecosystems. A group from The International School of Lagos, Nigeria, came toNHMI for 7 days and concentrated on studying both coral reefs and history of the Florida Keys. The Institute for Foreign Studies (Philippines) focused their studies on sharks and animal behavior. To supplement the science program options, special tours can be arranged to visit such facilities as the Dolphin Research Center, the Key West Aquarium, and Theater of the Sea.

NHMI has hosted several groups of international scientists, educators, and camp administrators, sharing with them our knowledge and methods of both teaching marine science and operating an environmental education field center. Program options for professionals and pre-professionals may include:
experiential teaching methods;
administration of field studies centers;
administration of camp programs and facilities;
Cultural Aspects
An integral part of NHMI international programs is its cultural ingredient. The students have a chance to visit several museums including the Natural History Museum of the Florida Keys, Ernest Hemingway's home, the John James Audubon house, and the Mel Fisher Maritime Museum of sunken treasures from 17th century Spanish galleons. A visit to the southernmost city in the United States - Key West - is always a popular tour. International students also enjoy visits to local schools or colleges. Dinner with an American family is a great treat and a memorable experience for them, as well.

Different languages are not a problem for understanding or communicating at Seacamp. The classes are so visual, tangible, and hands-on that the students do not have any difficulty in understanding marine life and its concepts. International students leave NHMI improving their command of the English language and enlarging their vocabulary.

Last year at the request of one of our international groups, Seacamp offered an ESL class as part of its program. The class is based on a communicative approach and on the practical experience the students have.

At the request of our international groups, NHMI offers a Disney World option. Disney World is located in Orlando, an 8 hour drive from our Institute. A four day excursion to Disney World includes 3 nights' accommodations, round-trip transportation to Orlando, 2-day admission tickets into Disney theme parks, meals, transportation and NHMI staff as escorts. The length of the stay in Disney World may be extended if desired.

When to Come
NHMI encourages its international participants to come in December, January, and February. The climate in the Florida Keys is subtropical. The water temperature is much warmer than anywhere else because the Gulfstream flows close to the islands. Air temperature during these months varies from 60F (17C) to 77F (26C); water temperature varies from 68F(19C) to 73F (25C). When considering stays during any other months of the year, you should be ready to book your space a year in advance. As a rule, NHMI programs are booked 6-12 months before the group arrival date. NHMI personnel will be glad to work with our international participants arranging the time of the visit and developing their own individual programs.